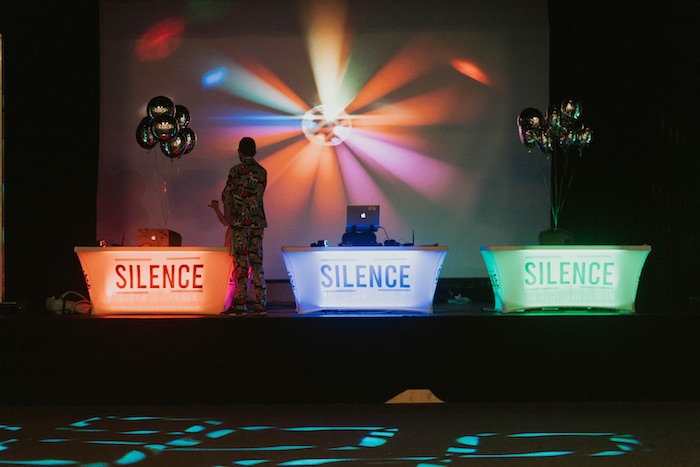 Silent discos have become quite a popular trend within the last few years. They're much more common to see at music festivals and various other events.
5 Tips for hosting a successful silent disco
If you're interested in hosting a silent disco, you'll want to make sure you familiarize yourself with the ins and outs of these unique parties.
Luckily for you, we've provided some tips below on how to host a successful silent disco—one that will leave party-goers feeling all partied-out and satisfied.
1. One point of entry is important!
Silent discos are different than any other party because the equipment you hand out to party-goers has to be accounted for. You don't want to constantly lose money from missing headphone sets, so you want to make sure the crowd is managed well.
Having a narrow entryway will help to ensure people don't accidentally leave the party with your equipment still in hand.
2. Keep your venue on the smaller side.
Since silent discos are still such a novelty experience for many people, you want to make sure your disco guests are comfortable with the amount of space they've got around them. Chances are, they'll feel a little awkward at first. Having a ton of free space around them will probably deter them from wanting to get into their groove. The whole point of the experience is to become immersed, so you'll want to make sure you go on the smaller side when you start your venue shopping.
3. Amp up the visuals.
Visual effects are key with hosting silent disco parties. Having some great effect lighting will help draw in any people outside the party. Just like music, great lighting has a profound effect on the mood of the crowd. Help establish an amazing musical immersion with the best lighting equipment you can find with your party budget.
4. Picking an equipment management method.
You'll want to pick a management method that works for you, and you have a few different options that help ensure you minimize any potential profit loss:
Charge a refundable deposit for each headphone set
Require ID's as collateral
Or, consider using a newer method of RFID chips and scanners
Whatever you decide, make sure it can be maintained within an organized flow at your party's
point of entry. Most importantly, make sure it allows you to keep track of your silent disco
equipment rentals. You want people to have a great time, but you also want to ensure you minimize any potential profit loss.
5. Pick your headphone rental company.
Establish a good relationship with them, because it can save you money in the long run. Buying the equipment yourself is an option, but it may not be the most economical one. Maintenance and upkeep can be expensive, so renting the equipment for your parties is likely the best route to go.
3 different types of silent disco rentals you can utilize:
Wet hire silent disco headphone rentals
rental that includes setup help from an experienced headphone tech. This is a
smart option for first-time silent disco hosts who aren't super familiar with how
everything runs. Your tech will show you and everyone involved how to keep the show
running seamlessly.
Dry hire silent disco headphone rentals
The headphones and basic instructions are shipped to you. It'll be the most
cost-effective route, but the rest will be your responsibility. Make sure you feel confident
in running things yourself before going with this option!
Turn key silent disco headphone rentals
This type of rental will unload a lot of the pressure. Turn key rental for silent
discos provides the DJs, equipment, and the entire experience along with it. It will cost a
little more than the other options, but it might be a good choice for inexperienced party
hosts.
Feel free to share our tips, and keep them in mind when you get on with your planning. We hope they give you some guidance with cultivating the perfect experience for the attendees of your silent disco event!
Related Blogs from SILENCE Acitvations: