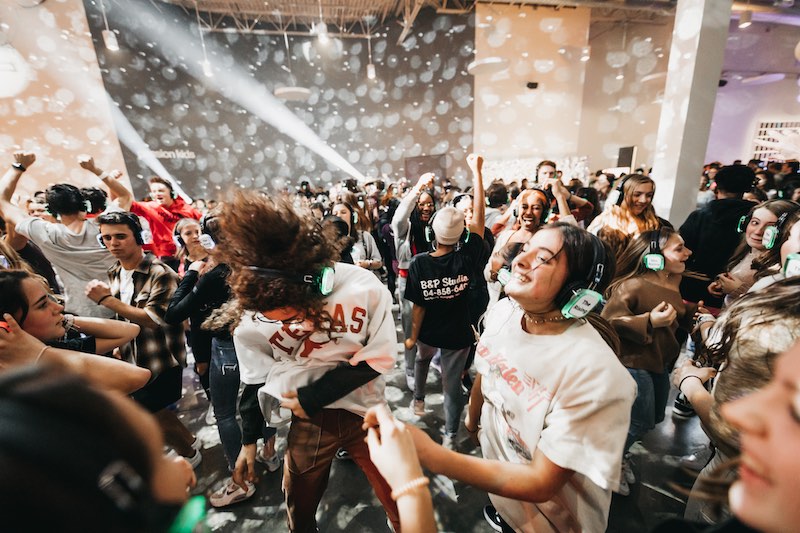 If you've ever been to a silent disco, you know just how unique these parties are. If you haven't experienced one yet, then it's an absolute must-add for the bucket list.
Either way, you should try and have the best time you possibly can while you're jamming out at one of these great events.
To help you achieve this goal, we've got five great ideas on ways you can get the most out of your silent disco party experience!
1. Important to remember that this is a judgment-free zone
Remember that it's a judgment-free zone. Therefore, lose the awkwardness and any
jitters you might have. For one thing, everyone else has probably started out feeling the
exact same way. Once everyone has loosened up, though, no one is thinking about
anything. They're all listening to their favorite music and having an awesome time. Keep
in mind it's been a new concept for everyone at some point, but the more you embrace
the uniqueness of the event itself, the better a time you will have.
2. This is the time to immerse yourself
Be ready to completely immerse yourself. A silent disco party is quite an immersive
experience. Everyone in attendance is obviously in their own world, in a way, but the
energy surrounding each person is what creates such a collective and bonding vibe. It's
one of those, "you had to be there" kind of things. So make sure you're there—but once
you get there make sure you're there!
3. Understand your equipment rental rules
Keep in mind that there may be equipment rental rules. Make sure you're aware of
all the requirements for the silent party you're attending. For example, the company may
require a cash deposit, an ID hold, or a credit card payment. Each company works
differently, so be aware of any preparations you might need to make before heading out
the night of the event.
Song envy is real
Song envy is real, so be ready. The party is likely to have multiple channels. This means
you'll have multiple DJ's—or playlists—available to choose from. It's great because
there is a wider variety of music that can play to many different tastes for the crowd, but
it can also mean watching people jamming out harder and tempting you to change to their
channel. There's absolutely nothing wrong with that, but it's good to be prepared for this
much flexibility in your party vibes. It's not every day you get to pick your own music at
a large group event, after all.
5. Be prepared for a good laugh
The awkwardness is only without headphones. BUT, if you're someone who often
takes videos on social media when you're out, be ready for a laugh. Watching people
(and yourself) dancing to what appears to be silence can be pretty hilarious. However,
everyone will mostly be immersed in their own little musical paradises once they pop
their headphones back on. Anyway, the hilarity is all a part of the initial experience.
When you become a seasoned silent disco vet, you'll skip past all that and eagerly go
straight to the headphones, and your music of choice.
Keep these ideas in mind for getting the most out of your silent disco experience, and you'll be equipped and ready for your next event!
If you have any silent disco party questions, you can always reach out to us at Silence Activations, or shoot us a message on our Facebook page.